I've been avoiding this post because I'm still upset but it's time to tell everyone.
Romeo died last Monday. On Sunday I noticed he was sick and I rushed him to the emergency vet. They weren't sure what was wrong with him so they gave him a bunch of different medicines just in case. He felt much better after we got home and was perching on his perches, cleaning himself, and feeling well enough to fight with me over taking his medicine. He also ate and drank a lot and seemed to be doing so much better. In the morning he died. I have a crazy idea that I saw him take his last breath but that may be my insanity trying help me cope with losing him.
I will probably write more about this someday. I'm still upset. His death was very peaceful though and I don't think it would have been a peaceful death if he hadn't gone to the emergency vet.
The other birds are fine. Juliet is not nearly as upset as I thought she would be. I have been hovering over them like a nut. I keep running in the room to make sure everyone is normal. The vets were not concerned about anything being contagious. At first they thought it was some sort of infection but all tests came back negative. Everything looked normal and there were no obvious signs of injury or anything like that. And I never really thought Juliet had hurt him, they have never had a serious problem like that and if they had I would have separated them. When we got back from the vet (it was a very long day, getting over there is difficult enough without it being the day of the Israel Parade which meant it was almost impossible) I put Romeo in a separate cage and kept him close to me overnight in case he made any strange noises. I was also afraid to leave him with Juliet. I just couldn't take the chance that she would take advantage of his weakness.
I could probably write about this forever but I won't. I am going to go over there and pay of the balance of my bill and take a look at all the paperwork.
Which brings me to the next point of this post. I took Romeo to the Animal Medical Center on East 62nd in Manhattan. The Animal Medical Center is one of the best veterinary centers available and it is a 24 hour hospital. I have heard a million good things about them but had never been there because I've never had an emergency like that. Except one time with my dog but then I ran with him in my arms to the vet near my house.
Incidentally the Animal Medical Center is where my parents just put their German Shepherd down. On May 7th. And then I'm there on June 3rd.
They were amazing. I cannot even begin to explain how grateful I am and how impressed I was by their extreme professionalism. And they really care. I only had $90 in my bank account that Sunday. I told them that over the phone and as soon as I walked in. They knew I didn't have much money and as soon as they saw Romeo they rushed me into a room and had a vet examine him immediately. I applied for Care Credit, which is like emergency Medicare for pets, but I was denied because I have no credit history. Note to self, get a credit card! I've been old enough to get one for a few years now and I have never gotten one. The Animal Medical Center offered me a payment plan and I'm just so extremely, extremely grateful to them for helping me even though I didn't have all the cash at the time. I'm heading over there later today to pay off the balance. I meant to go on Friday but I've been working a lot, I'm got pretty sick last week, and my knees have started hurting again. So today is the day.
The Animal Medical Center has my endorsement for life. The staff was so professional and everyone obviously made animals their priority. It was one of the only times I've been in a veterinary setting where I felt everyone was in it for the animals instead of the money. Though I hope the people that work there make a good amount of money because they deserve every penny. I also did a bit of reading on their website and discovered that everything I saw that impressed me so much is all possible because of donations. I want to donate something after I pay my vet bill (and my two months worth of rent…) and I am also considering paying for a little memorial for Romeo. Maybe put his picture up on their wall.
I also met a fellow crazy bird lady during my travels. I never got her name but we spoke for a long time and she knew quite a bit about birds and dogs. She gave me a lot of good advice and it was also nice to have someone to talk to while we are trying to get across town on the stupid bus that unexpectedly got diverted due to the parade. She got off on the East Side and then I hear her calling me from the bus. When I look out she is pointing out a life-size statue of an American Eskimo dog (my dog is an American Eskimo and we had been exchanging dog pictures) sitting in the window of a fancy antique shop. That one moment made me so happy because she was a perfect stranger trying to make me feel better. I want to stop by that store and see how much the statue is. I know it's probably insanely expensive and I won't get it but if I can afford it I would like to have it as a reminder that sometimes you meet some great strangers in New York when you break the cardinal Don't Speak To Strangers Rule. If that lady ever finds this site and reads this post here is a note for her:
Thank you so much. You really brightened my day and made everything easier to deal with. I'm so glad I ran into you and had someone to talk to and who could distract me because I was trying really hard not to cry in public. I want to get that statue just because you pointed it out to me and you looked so incredibly happy.
There are a million other things I want to say but I need to get ready to leave. Here is my favorite picture of Romeo. I miss him so much.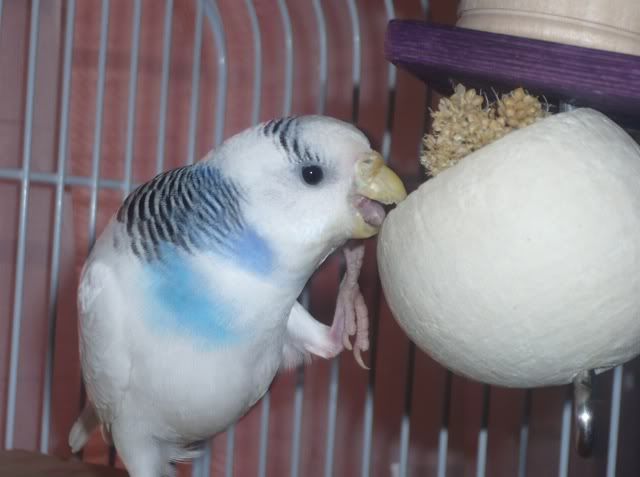 And here is a glimpse into my odd mind. I told Coco about Romeo as soon as it happened because she is my birdie therapist. Here is a funny excerpt from our conversation I thought everyone might find amusing.