New York is such a weird city. With so many people you would think we could live our lives in complete anonymity. Think again. New York is a small world and I am always running into someone I know, usually someone I'm rather not see. Then we have to figure out whether we are going to pretend we didn't see each other, do the "I acknowledge your existence" head nod, or have an awkward conversation. Obviously the first two are my favorites.
Imagine my shock when the lady from our trip to the emergency vet walked into the store I was working in! I flipped out of course because I thought I would never see her again and updated her on everything and we talked a little more. She agreed that the American Eskimo statue was probably thousands of dollars so I have a feeling I won't be getting it. Turns out she is affiliated with the Wild Bird Fund so maybe I will continue to see her from time to time. Like a crazy stalker.
I thanked her and was so happy to get the opportunity to thank her. I told her our conversation made my long and torturous ride less torturous. It's a small world and sometimes even in a good way!
I'm going to have to go to Fauna and talk to them. It's just difficult. I'm working and doing the physical therapy and it all makes my knees very unhappy. I am concerned about the future of my knees. I've always been 100% healthy, the worst I've ever done is sprain an ankle or get a flu, so this is so strange to me. It has definitely made me realize that the way my body feels overwhelms everything else, though I have complaints about other parts of life as well.
I know I have old photos of bird food somewhere, probably on my phone, but I'm not really in the mood to talk about bird food. I suppose just for a second. I'm going to place an Avian Organics order someday soon. Maybe next Friday? Not sure. I want to get a bunch of stuff including their pellet alternatives like the Mango Ginger Minis. The only problem with ordering from Avian Organics is how quickly everything vanishes! I'm not even going to pretend I don't have something to do with that! I totally gave Avian Organics a shout out at the vet by the way! They asked about the food I feed and ten minutes later were running for the door because I just kept talking and talking and talking. The vet said she would look them up and hopefully she does.
Since I don't want to share pictures of bird food I will share pictures of a cute puppy. My mom got a puppy, I think I mentioned this. He is about four or four and a half months old. He is adorable. Actually, maybe I didn't even remember to tell you guys? I just checked and can't find anything written about him. I've been out of it lately and the whole Romeo thing twisted my head off and put it back on incorrectly. Or maybe finally correctly but I've lived my entire life with my head on incorrectly and now it's confusing.
She got a puppy. Not too long ago, maybe two weeks or so. He is a very nice dog. Very good structure and a beautiful face. I am particular about German Shepherd faces, I don't like narrow snouts. I always like dogs with thick and tough skulls. My little munchkin is a very solidly built American Eskimo and he has a great skull. These things matter to me. Let's look at some cute pictures to make ourselves feel better.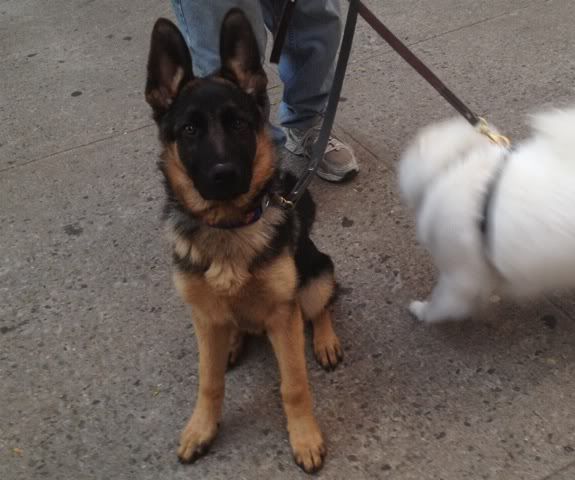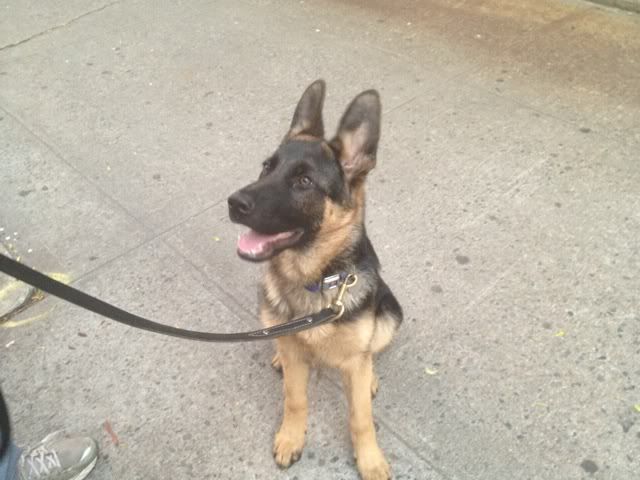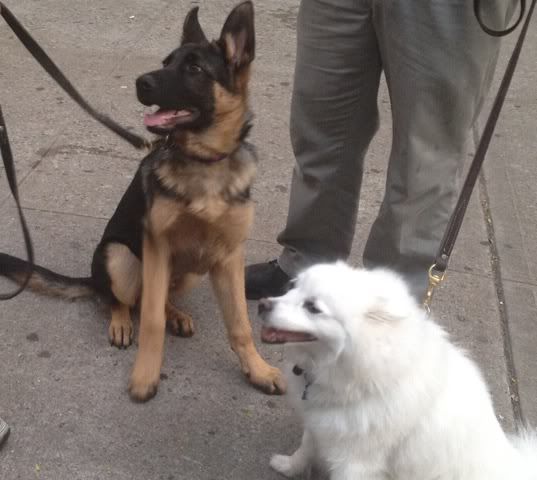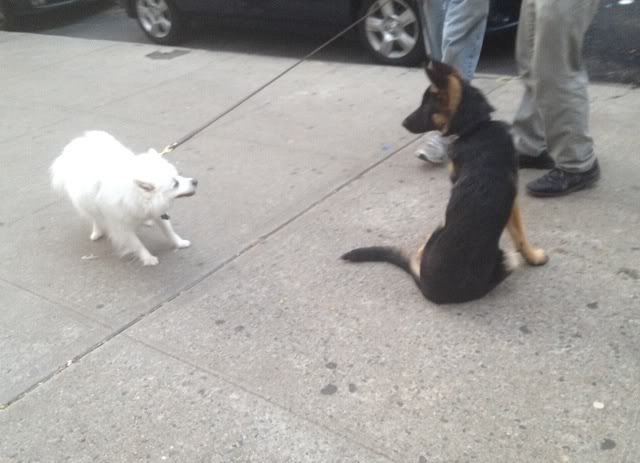 I love the last picture so much! My dog does not actually hate the puppy, in fact he loves him, but that picture is priceless. He isn't even really trying to get away from the puppy, my brother was holding my dog's leash and my dog was being stubborn and not listening to him and trying to get me to hold his leash. My dog is a pain when other people are holding his leash, especially if I'm around and not holding it.
Their introduction took place near my parent's apartment. It was bittersweet really. I didn't bring my dog over to their house after their dog died. I didn't go over either. I couldn't imagine walking into their house and not being greeted by a dog. They've always had at least one and we had three for years and years. I was worried about how my dog would react if his buddy wasn't there, I thought he would go around looking and we would all cry like babies.
My mom's dog and my dog basically grew up together. I adopted my dog when he was one year and one day old and my mom already had her puppy at the time but he was tiny, just a few months. They grew up together and always got along well, probably because we had a monstrous third dog who ruled the house with an iron paw. Their bond was very sweet especially since my mom's dog was such a gentle giant and my dog is a little imp who pushes limits constantly. There is nothing cuter than watching a 20lb dog wrestle with a 95lb dog and seeing how careful the 95lb dog is not to hurt him. They were definitely brothers in every sense of the word.
When my dog saw the puppy he did a serious double take. He was shocked. He stopped in his tracks and growled very loudly but it was a wary growl instead of an aggressive growl. My mom and my sister and I all saw the confusion in his face and his tiny brain was trying to figure out what had happened to his buddy, had he shrunk back into a puppy and gotten a different smell? We managed to restrain ourselves from crying in public. We walked them together and after a while my dog decided to investigate for himself and check out this impostor. We were very, very careful not to let them have any negative experiences. My dog does not back down from a fight at all and he can even be accused of starting them from time to time. I did not want him to go after the puppy because it would sour their relationship forever. The puppy would never forget and he will eventually grow up to be an adult German Shepherd and I would like to be able to have our dogs hang out together.
After sniffing the impostor and deciding he was not a threat my dog proceeded to pee on everything he could find to let the new dog know that the entire Bronx belongs to him but he is willing to share. Then we went upstairs. My dog looked for the old dog and I wanted to cry. Luckily he has the attention span of a gnat and we were able to distract him with some steak. The dogs got along well and then my dog decided he actually really liked the puppy so he tried to get him to play. My dog will literally bounce around like a Mexican jumping bean while growling to let other dogs know he wants to play. The puppy was terrified! He wanted to play but my dog moves very fast and he was afraid of him. It was very cute. The second time they saw each other they ran over and started playing. Now they play every time. When my mom drove up to my house recently with the puppy in the car she was taking a while to get his leash on and get him out of the car and my dog started to cry because he thought she was taking too long and he really wanted to say hi.
Which of course means that when I get my own German Shepherd puppy my dog should accept him or her without any problems. Other breeds are never going to be accepted. My dog hates flat faced dogs like Pugs, Pits, Frenchies, and the like. Hates them. There is a simply amazing Pit puppy in my building and she is the sweetest and most beautiful dog in the world and wants nothing more than to play with my dog but he is having none of it. He hates her. Now they've gotten to the point where they can hang out near each other without flipping out but I doubt he will ever interact with her. He also ignores the two Pugs that live here. One of them is a very small female and he doesn't mind her as much but refuses to interact with her. The other is a large male, possibly larger than my dog, and he never even lets him get close enough to smell.
This new puppy is adorable though. Simply adorable. These pictures were taken with my phone but I will take pictures with the camera and post those. He is going upstate this weekend and I think they will be taking tons of pictures.
I'm happy they got a new dog. They needed one. This is also the first time I've ever seen any evidence of my father having human emotions. He loves the new puppy! He coos over it! My father does not coo! He probably didn't even coo over me and I was the first child! He always says "it's just a dog" but I am now realizing he must have been more affected by the sudden death of their dog than he let on. Interesting. I've never seen my dad like a dog as much as he likes this one. He really wants me to train him to do tons of tricks because I have always trained all our dogs. I'm tempted! I trained their old dog to shake and he was so enthusiastic about it he would slam his huge heavy paw down on your hand as hard as he could and it was so fun. I want the new puppy to do the same. He has the same paws.
I want to take him for long walks and things like that, take him around the neighborhood and let him socialize with dogs, adults, and kids. He is still so young that he can be easily socialized and when he grows up to be 80lbs they will not want him to be aggressive. My mom won't let me walk him around though, I have a feeling she thinks I will let him get ripped apart by a savage fighting dog. She is being a bit neurotic about him but I'm not surprised. Out of all of our family members I think I am the one who will react most aggressively to a dog attacking one of my dogs. I have no problems with using force to meet force and absolutely no reservations at all about hurting a dog that is attacking me or my dog. Keep your stupid dogs on leash people because if your dog goes after my dog we will have a gigantic problem. I've never had a problem with any dog that was on a leash, only idiots who think leash laws don't apply to them. Can you tell I have a strong opinion about keeping dogs on leashes? It is the rudest thing ever.
There were a few more paragraphs where I ranted about off leash dogs but I ended up taking them out.